Americold's raising funds for Let's Move Salad Bars to Schools!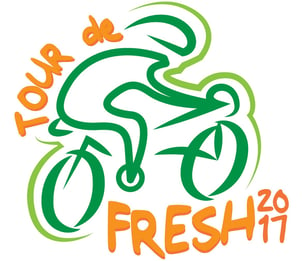 Let's Move Salad Bars to Schools has a goal to provide every school in the United States with a salad bar as part of its school food service program so that every child, from elementary school through to high school, has daily access to fresh fruits and vegetables, whole grains, and healthy proteins. Dollars raised, and there have been about $13milliion so far, go towards this goal to help combatincreasing rates of obesity among children.
Recent reports state that about 12.5million children, between the ages of 2-19, are obese. That's almost 17.5%! Americold's team of riders is collecting sponsorship funds that will go to this essential program.
The Tour de Fresh takes place in California over three days at the end of July.
So who are our riders?
Tim Hinckley, EVP and Chief Commercial Officer/
Yep, we're rolling out the big guns. Tim enjoys Grand Fondos and gravel rides through the mountains, as well as the adventures and humor of the Global Cycling Network. Tim is riding for the Springfield, MA Public Schools.



Dennis Ford, Director-Business Development. Another member of our retail industry team, Dennis is no stranger to providing supply chain solutions or tasty salad dishes! Indianapolis, IN is his home but while the area's flatlands may not make you think he's a hill-climber, the constant winds create all the resistance he needs to build up leg strength!
Dennis is riding for Hamilton Southeastern Schools in Fishers, IN.




If you're interest in sponsoring one of our riders then please click on a rider's name above to be taken to the official Tour de Fresh Rider donation pages. Thank you!
And then follow our Tour de Fresh antics on our blog!
Here's to the road ahead...